Imagine that in your community
and the prevention tips you need,
consider you as a whole, make you an active participant in your health and recommend health practices such as osteopathy, acupuncture, yoga, plants etc.

that it is attentive to noise and light pollution, that it develops therapeutic public gardens, etc.
and are concerned about the health of their customers when they design the products they will sell.
Not to mention the role of teachers, environmental professionals, veterinarians, etc.
Bringing together and linking instead of opposing
and dividing
The ecological transition and more broadly the societal transition are at the heart of the debates. This transition also concerns health. The actors of the health system are beginning to invent a new way of accompanying each person, more respectful of life: more human, more attentive, less polluting and less costly. We need the technical and scientific skills of health professionals, but we also need their sensitivity, their intuition and their creativity.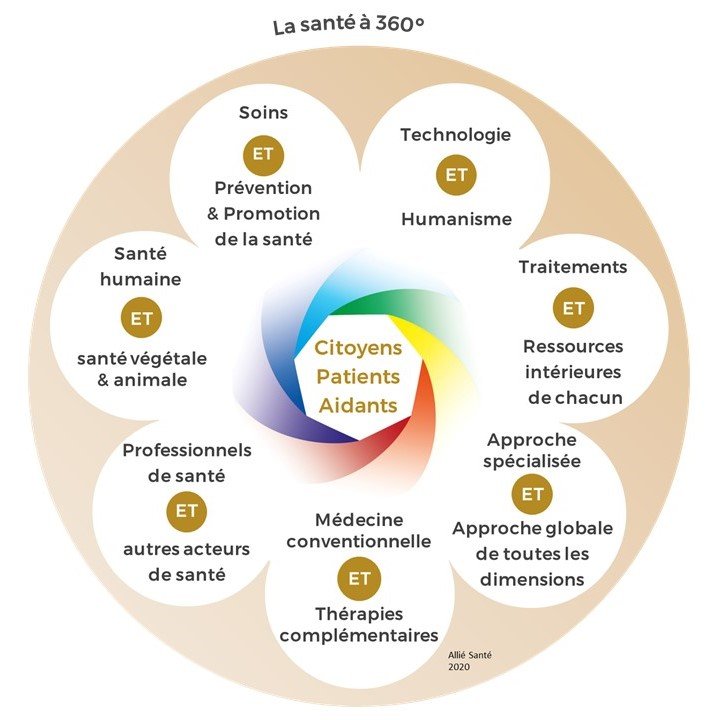 (1) Physical, emotional, mental, creative, social, etc.
(2) Adapted physical activity, dietetics, acupuncture, hypnosis, osteopathy, yoga, meditation, aromatherapy, phytotherapy, naturopathy, homeopathy, art therapy, thermalism, etc.
(3) According to the Health Code
Allié Santé, 2020 - All rights reserved